Xiaomi has announced its big product launch event of 2021 which is scheduled to occur on 29th March. Earlier this week Xiaomi announced that 2021's product launch event will be held in China. It is already confirmed that the company will be launching Mi 11 Pro and Mi 11 Ultra. For the global markets, this event will be virtually broadcasted.
In order to officially announce the release, the company also posted a teaser.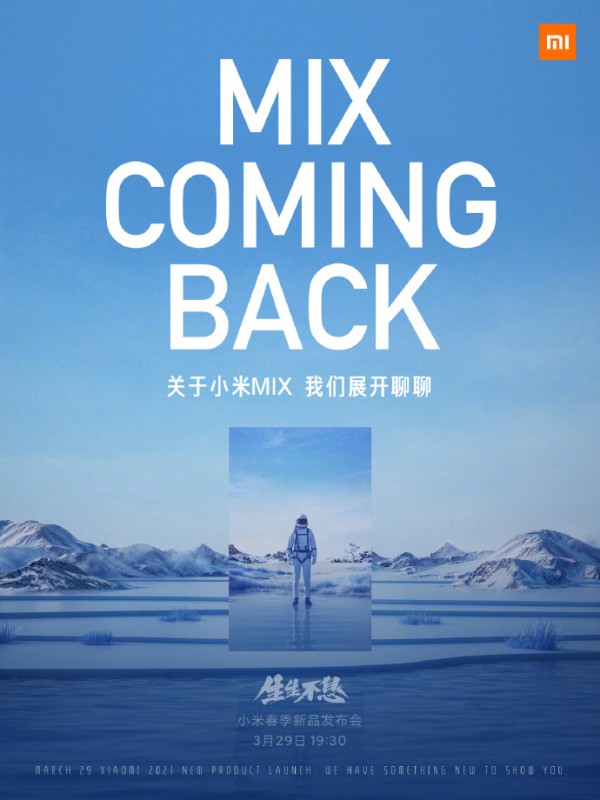 The bottom of the poster mentions 29th March 2021 "we have something new to show you."
The company recently posted a teaser of the upcoming Mi 11 Ultra that will feature a silicon-oxygen anode battery and a new chipset. Although we are unaware of what the new chipsets will do but it will definitely be backed by super fast charging. Furthermore, the company also revealed that Si-O2 technology will assist in making mobile phones thinner charge faster. This idea has been borrowed from new energy vehicles that make use nano-scaled silicon material through the negative anode. This technology has 10 times greater capacity than graphite. Therefore, the all new Xiaomi's Mi 11 Pro and Ultra will feature a revolutionary battery which will support fast charging.
As per the previous reports and rumors, MI MIIX is expected to be Xiaomi's first foldable smartphone. The device has already cleared 3C certifications but majority of the details were not revealed. It was only revealed that the phone will have an fold inward and will have a hinge design like Galaxy Z Fold2.
In addition to this, the company will also unveil its products like MI Notebook Pro laptop, and a new MIJIA Washing Machine. Since the announcement has been made by the company, it is now posting different teasers on Weibo.